Founded in Switzerland in 1985, the owner-managed Profidata Group offers software solutions and services for investment and wealth management. The headquarters of the group with over 200 employees is located in Urdorf near Zurich. Services such as system implementation, training, support and hosting are provided from Switzerland and from the offices in Frankfurt am Main, Saarbrücken, Luxembourg, London and Singapore.

With more than 100 successfully implemented customer projects, our 80+ software developers and 50+ consultants have a profound expertise in the implementation of complex requirements for a wide range of customer profiles, from fund management companies, banks, private and institutional asset managers to insurance and pension funds.
Dr. Frank Jenner | Management Board

Bändliweg 30
8048 Zürich
Schweiz

Tel +41 44 736 47 47
info@profidata.com
https://www.profidata.com


Products
XENTIS – Investment Management System Product & Cloud Service show product detailhide product detail
Description:

XENTIS (On-Premise):
The integrated and modular, front-to-back investment management system for the administration of investments. XENTIS supports the complete management of investments, including alternative investments and automates all common business processes, e.g. asset and portfolio management, investment compliance, individual customer reporting, etc.

Managed Solutions (ISAE-3202 certified)

Xcloud (Saas):
In the "Basic IT Operation" service, Profidata Managed Solutions (PDM) takes over the entire IT infrastructure of Profidata applications with the Xcloud solution and operates them for its customers.

Application Management as a Service:
In addition to the basic operation, Profidata Managed Solutions offers an Application Management Service, which provides application support for XENTIS.

Business Process as a Service:
Apart from the technical possibilities, Profidata also offers the option of outsourcing business tasks that are not defined as core business by the customer to Profidata with the Business Process Service.
Hosting:

in Switzerland
Categories:

Risk Management, Accounting , Insurance, Software-as-a-Service (SaaS)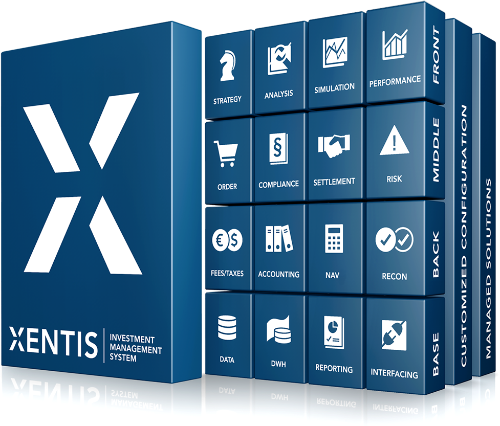 XDO – XENTIS DirectOrder Product & Cloud Service show product detailhide product detail
Description:

With XENTIS DirectOrder, we present the first module of our product strategy "XENTIS 8": lean web applications, implemented with state-of-the-art technologies that focus on a specific use case in order to make it as efficient and user-friendly as possible.

XDO allows users to follow the lifecycle of their orders "live". From order creation to pre-trade investment limit checks to (partial) execution, the user is always informed about the current status. In addition, it is always possible to display the current composition of a portfolio including cash and securities positions.

Since XDO is offered as a SaaS solution, use and operation do not tie up any additional resources on the customer side. As a native cloud solution, the service can be scaled as required to meet the customer's needs.
Hosting:

in Switzerland
Categories:

General Financial, Software-as-a-Service (SaaS)
e-AMIS – Wealth Management System Product & Cloud Service show product detailhide product detail
Description:

e-AMIS is the complete asset management and information system for mapping the entire investment process in portfolio management. Family offices, banks, asset managers and other financial service providers appreciate the comprehensive range of functions and the intuitive operation of the software. With its flexible architecture and innovative technology, e-AMIS enables the efficient management of investments. Portfolio managers and investment advisors use e-AMIS to increase the quality of advice and to ensure optimal customer care.
Hosting:

in Switzerland
Categories:

General Financial, Wealth Management Platform(s), Software-as-a-Service (SaaS)