Bachmann Support is providing software that enables the organization of office information with smart FileMaker Pro databases, including the presentation of content on the company website.
Imkerstr. 7
8610 Uster
Schweiz

Tel +41 44 994 23 94
info@bachmann-support.ch
http://www.bachmann-support.ch


Products
MiniBüro Team Software enabled Business show product detailhide product detail
Price:

ab CHF 150.-/Monat
Version:

2021
Description:

MiniBüro Pro 11: Office administration made even easier for SMEs
The new office software MiniBüro Pro 11 from Bachmann Support GmbH now also enables the recording of payment slips including automated payment matching. Empty or manually filled in payment slips are history. A modernised user interface and numerous other optimisations make everyday office life for SMEs child's play.
MiniBüro 11 covers all tasks that SMEs and the self-employed have to deal with in their day-to-day business: Capturing customers, writing offers, sending order confirmations, creating and posting delivery notes and invoices within minutes - the office software is the simplest way for small and medium-sized businesses to efficiently manage their administration. With the MiniBüro Pro 11 update, Bachmann Support GmbH now offers important additional functions.
What's new?
With MiniBüro Pro 11 it is finally possible to print payment slips. In addition bank payments can be read in simply and booked with one click. In addition to a revised and more user-friendly layout, numerous other services such as a support ticket function or more flexible VAT handling are added. Also new is a more flexible address assignment in order processing, a completely revised financial accounting and the weekly view in pending administration.
MiniBüro 11 is already available for CHF 450. MiniBüro Pro 11 is available for CHF 750. Both versions are a one-off purchase with no hidden costs.

Technology:

FileMaker based, Mac & PC
Hosting:

in Switzerland
Categories:

General Administrative , Complete ERP Software, Customer Relationship Management (CRM), Office Suites, General Administrative
Link: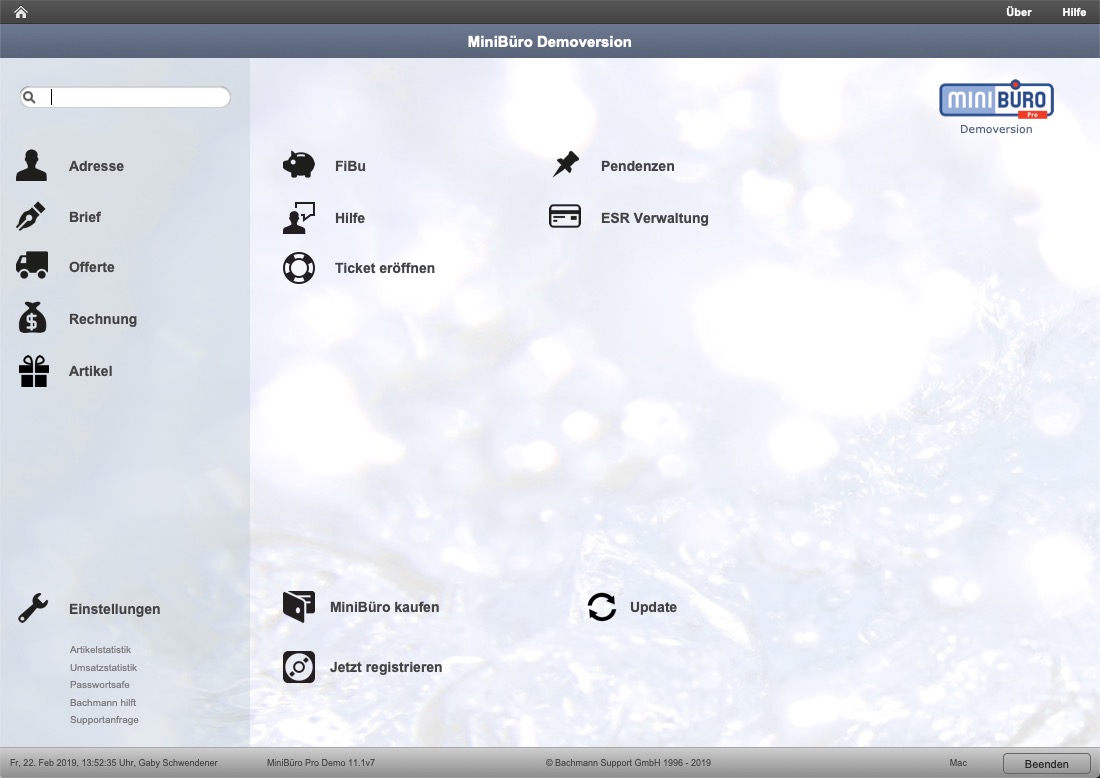 FlexBüro Product & Cloud Service show product detailhide product detail
Price:

ab CHF 250.-/Mt.
Version:

19
Description:

Flexible solution for highest demands. CRM and order processing in one program.

Your advantages
The FlexBüro software is based on FileMaker Pro and is suitable for Mac, Windows or mixed networks. FlexOffice is flexible, customizable, simple and intuitive to use. With just a few mouse clicks you can write offers, delivery notes or invoices in no time at all. These can be easily printed out or sent as PDF email.

Customizable software for your company
FlexBüro is the complete commercial solution for SMEs, service providers, specialist dealers, craftsmen, foundations and associations. FlexBüro adapts to your company processes and accompanies you flexibly with your company growth.

More than 20 optional modules available
Expand your FlexBüro according to your individual needs. Manage your courses, subscriptions, stocks, barcodes, maintenance contracts, instruments, repairs, events, projects, wages, creditors, debtors, finances, properties and objects.
Technology:

FileMaker Pro 19 / Mac & Windows
Hosting:

in Switzerland
Categories:

Project Management, Online Shops, Complete ERP Software, Customer Relationship Management (CRM), Business Service Management
Link: