Incentage is the experienced product leader for message integration, data transformation, messaging hub, message monitoring and message management. Its high-quality products are generic and meta data driven. Customers win time and flexibility to efficiently digitalise business processes.
Incentage's expertise in Swift, FIX and other message standards are reflected in the products.
Incentage makes you more flexible, reduces processing risks, unravels complexities, gives you unprecedented control, and cuts costs with rock-solid messaging solutions.

Herr Felix Huber | CEO

Mülistrasse 18
8320 Fehraltorf
Schweiz

Products
IMS Incentage Middleware Suite Product & Cloud Service show product detailhide product detail
Price:

modular price model
Version:

7
Description:

IMS, the Incentage Middleware Suite, is the messaging integration solution which increases quality and reduces the risk and time needed to complete integration projects.
IMS is a fully modular rules engine designed for message transformation without the need to write code. Applications can be interconnected using the comprehensive set of adaptors, parsers and builders.
Parsers and builders use data dictionaries to fully support standards such as Swift, FIX etc.
Technology:

Rule based message transformation
Categories:

Enterprise Application Integration (EAI)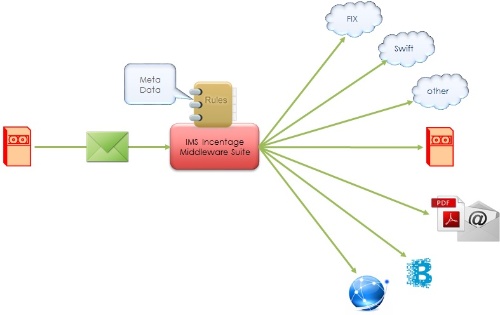 IPC Incentage Process Cockpit Product & Cloud Service show product detailhide product detail
Price:

volume based
Version:

7
Description:

Damage prevention instead of damage detection!
Message flow automation gets rid of many potentially serious problems. But what about situations in which a message is expected but doesn't appear? Who will spot that? IPC will.
Its acuity and regime of total control give you peace of mind and a superior perspective.
The Incentage Process Cockpit masters all messaging processes and losslessly monitors traffic. It gives you the assurance of having your communication under control.
Technology:

Business Activity and Services Monitoring
Categories:

Business Performance Management
ISB Incentage Service Bus Product & Cloud Service show product detailhide product detail
Price:

volume based
Version:

7
Description:

Orchestrate your message flows in a hub including manual workflows for message creation with ISB. The sophisticated search engine empowers the user to find transactions instantaneously with full-text search out of billions.
ISB experts use the combination of STP and configurable manual workflow capabilities with flexible GUI rendering to build their own application. Multiple solutions exist for corporate action automation, intraday liquidity optimization and management etc.
Technology:

Service Oriented Architecture
Categories:

Business Process Management / Workflow
Fraud Detection and Prevention Solution FDPS Product & Cloud Service show product detailhide product detail
Price:

auf Anfrage
Version:

1
Description:

Die Incentage FDPS Lösung identifiziert betrügerische Transaktionen, die über Netzwerke wie Swift empfangen werden. Die Lösung kennt alle gängigen Finanzstandards wie FIN, ISO 15022, ISO 20022, SIC etc. und analysiert inhaltlich mit vier Angriffsvektoren. Ein Dashboard gibt laufend Aufschluss über die aktuelle Situation. Gefahrensituationen werden alarmiert und eskaliert. Die Bearbeitung wird vom System begleitet und protokolliert. Jegliche historischen Geschäftsfälle werden im System zur detaillierten Recherche vorgehalten.
Technology:

Incentage Process Cockpit, Incentage Middleware Suite, SOLR
Categories:

Business Process Management / Workflow, General Business Analytics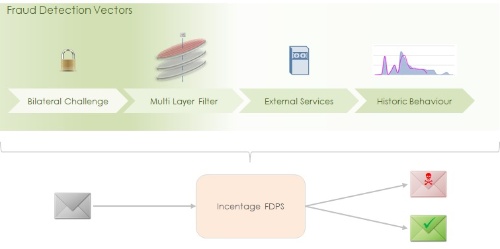 Thursday 14.06.2018

Echtzeit-Liquidität für systemrelevante Banken

Um den täglichen, laufenden Zahlungsverpflichtungen nachzukommen, brauchen Banken Liquidität – die sogenannte Intraday Liquidity. Doch wissen die meisten Institute gar nicht, wie diese Position aussieht. Jetzt zwingt sie der Regulator zur Transparenz.
Friday 24.11.2017

Security for international payments

In 2016, hackers attempted to steal more than 950 million dollars from accounts held at Bangladesh's central bank, Bangladesh Bank. While automated systems managed to stop the transfers at 81 million, this was still an impressive demonstration of the vulnerability of the SWIFT system.
Monday 01.08.2016

21st century banking with blockchain technology

Blockchain technology makes it possible to process financial transactions faster. Financial institutions will need to venture into this new world. And this is precisely where Incentage can help: easing this transition with smooth integrations.