Segetis AG help public limited companies to compile and manage their share register. We are your competent partner for all questions regarding registered shares and the preparation and holding of annual general meetings.

Our customer base contains companies such as Dätwyler Holding AG, Kühne + Nagel International, Liechtensteinische Landesbank or Repower.
Herr Gassmann Raphael | CEO

Platz 4
6039 Root D4
Schweiz

info@segetis.ch
https://www.segetis.ch



Products
Sharelog Product & Cloud Service show product detailhide product detail
Version:

1.9
Description:

With Sharelog, Segetis has developed high-performance share register software which is based on ultra modern technological standards and is regularly updated. All modules of the software are fully integrated and allow you to work without an interface.

Sharelog has an electronic connection to SIX SIS and supports AREG data.
Categories:

General Financial, General Administrative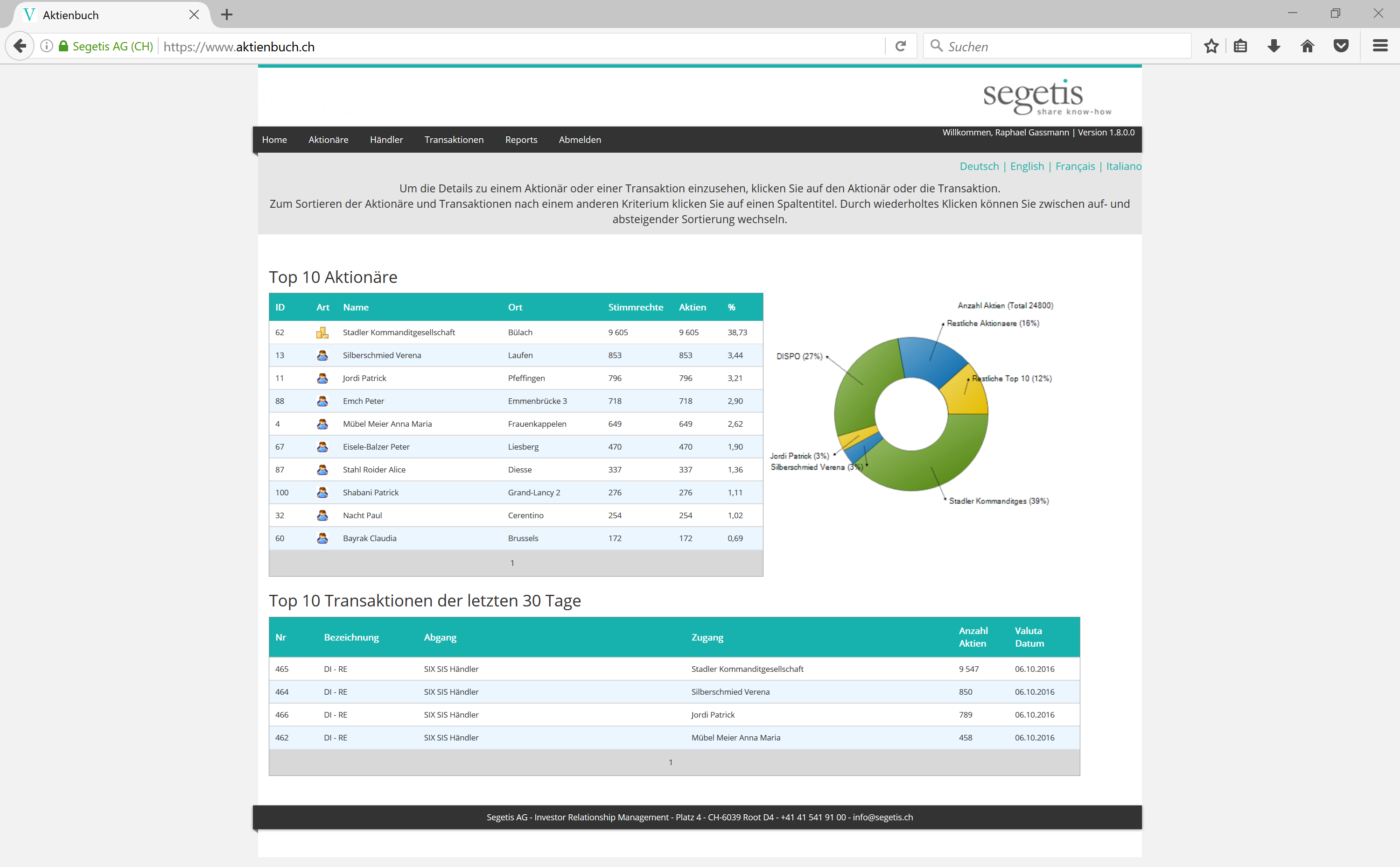 netVote Product & Cloud Service show product detailhide product detail
Version:

1.9
Description:

NetVote by Segetis is the comprehensive package for electronic distance voting. The internet proxy voting system can be integrated into the existing website and presented in the corporate design of the company if desired. The shareholder can access the application netVote with their identification and an individual access number (PIN), via a website.
Outsourcing Aktienregister - Share register management Services & Consulting show product detailhide product detail
Description:

The basis of each share register is compiling, maintaining and processing the shareholder master data. We manage the details of your shareholders, do the registrations and deregistrations and care for all the bank-related issues. Our services also include extensive reporting.
Categories:

General Administrative , General Financial