Integrator of Industrial Vision Systems and Provider of a scalable, modular Software Solution (Framework) to structure and support the development of business applications for all industrial systems such as machine automation. The platform includes specific modules, notably in automation, vision, augmented intelligence, data fusion and Industry 4.0.
Mr. Marco Aloe | CEO

Route des Flumeaux 45
1008 Prilly
Switzerland

Products
dgtis.framework Software enabled Business show product detailhide product detail
Price:

Machine-based
Description:

We provide a Low-Code Development Platform (framework) to automate the software development of industrial systems and to reduce the time between the conception and the manufacturing of machine-tools, machine automation...

It is based on a high level abstraction and a modular architecture in order to be as free as possible from peripherals, actuators and integrated technologies.

Modules: Vision, HMI, Interactive Documentation, Audit Trail, Augmented Intelligence, Quality Control, Alarm Management, 2D/3D Representation and many more functionalities.
Technology:

Windows-based (C#, WPF, .NET Core, SQL...)
Hosting:

in Switzerland
Categories:

Application Developments Frameworks, Machine Vision, Deep Learning, Software for Engineering, Business Process Management / Workflow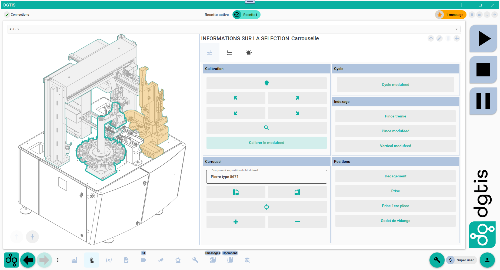 Expertise in Industrial Vision Systems Integration Services & Consulting show product detailhide product detail
Price:

Project-based
Description:

Experienced integrator of industrial vision systems in your process automation.

We advise, develop, and provide integrated modules and standalone vision-station. Our dedicated software embedding cutting-edge technologies like deep learning provides a best-in class solution for inspection, identification, process- and quality-control.
Technology:

Camera, Illumination, Diffusor, IA, Traceability, Image Analysis , Classification...
Categories:

Machine Vision