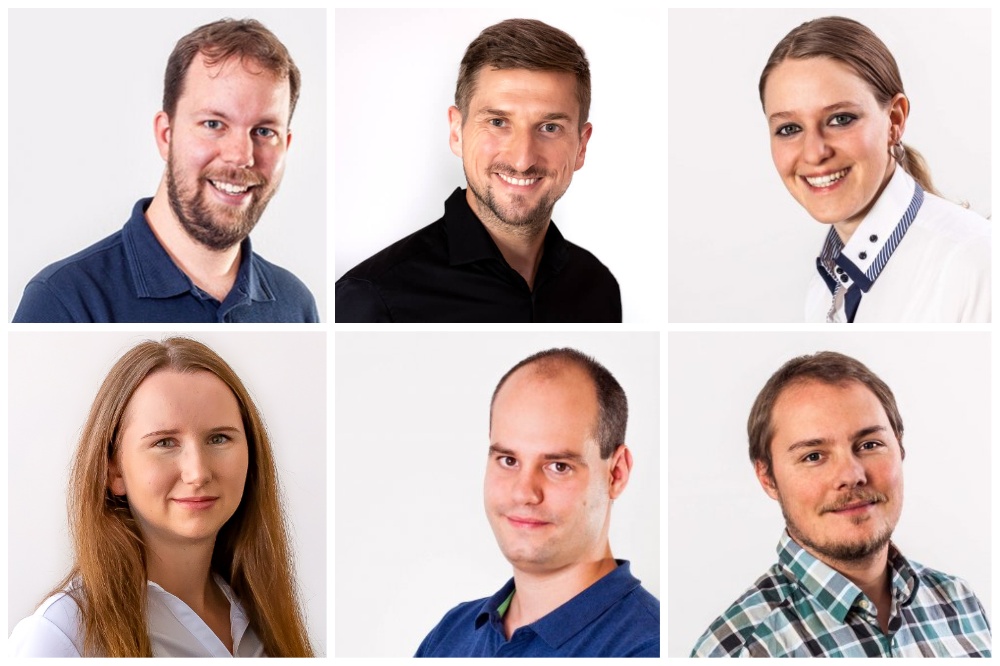 VSHN – The DevOps Company – appoints two additional Members of the Management and appoints new General Managers.
Markus Speth (previously CMO) and Tobias Brunner (previously Head of Engineering) are now taking over as Co-CEO and form, together with Michèle Leibenzeder (Head of People Operations) and Manuela Banz (CFO) as well as Marco Fretz (Organizational Development) and Matthias Indermühle (Customer Projects), the new 6-person Management of VSHN. The founders Aarno Aukia (CTO) and Patrick Mathers (previously CEO) will in future focus on strategic development as Members of the Board in addition to their operational activities in growth and backoffice.
VSHN Management 2021 (Tobias Brunner, Markus Speth, Michèle Leibenzeder, Manuela Banz, Marco Fretz, Matthias Indermühle)
VSHN Board 2021 (Patrick Mathers, Aarno Aukia, Bruce Mathers)
Zurich, February 1 2021
VSHN – The DevOps Company, the leading IT platform provider and expert in container, Kubernetes and managed services, is expanding its leadership team and realigning both its Management and Board.
CEO Patrick Mathers and CTO Aarno Aukia move from the Management to the Board and appoint Tobias Brunner and Markus Speth as new Co-CEOs. In addition, Michèle Leibenzeder and Manuela Banz join the Management. Marco Fretz and Matthias Indermühle complete the future Management of VSHN. With these appointments, VSHN is ushering in the next generation of the management and growth stage and is making itself fit for the future.
VSHN is a fast-growing Swiss technology company based in Zurich with an international customer base, winner of the Digital Economy Award, first Swiss Kubernetes Certified Service Provider and has been ranked in the top 10 fastest growing ICT companies two times in a row. With over 40 employees, VSHN manages more than 100,000 services for 350 different partners in various clouds and on-premises. VSHN counts Swiss banks and fintechs, telcos, large ecommerce retailers, the Swiss Federation and the Australian government among its customers and operates APPUiO.ch, one of the largest container platforms for customers on-premises and in the cloud.
VSHN is investing heavily in scalability through self-organizing, autonomous teams and is constantly developing the organizational structures required for this, for example with patterns from Sociocracy 3.0. The personnel changes in management and leadership represent the next logical step in growth and enable a better focus and division of work areas and responsibilities.
Both Patrick Mathers as previous CEO and Aarno Aukia as CTO will concentrate in the future on the strategic development of VSHN in the Board in addition to their operational activities and will therefore withdraw from the Management. The General Management will be taken over by two long-time VSHNeers in tandem as Co-CEO: Tobias Brunner and Markus Speth.
"Due to the growth of VSHN, this is a logical step. In the first few years, I was very close to the day-to-day business and was able to manage the financial aspects in particular well. However, the strategic development of VSHN is becoming more and more important. And since we have been able to recruit extremely competent people for the management and as Co-CEOs, I can face my new challenges with peace of mind and pleasure."
Patrick Mathers
"Patrick and I have realized that we simply do not have enough time to take care of the future company strategy and strategic development. We are handing over the management to 6 extremely capable VSHNeers, three of whom have been with us since the founding. Tobias and Markus complement each other perfectly for the task as Co-CEO and both will positively develop the 'VSHNaryness' in our sense for many years."
Aarno Aukia
"We are very pleased with this huge trust placed in us and gladly accept the task to jointly represent VSHN as Co-CEO in the future."
Tobias Brunner and Markus Speth
"When I started at VSHN in the fall of 2014 as the very first employee, with no office and no (corporate) infrastructure at all, just my personal laptop at home, I would never, ever have predicted that VSHN would grow to over 40 VSHNeers in this short period of time. This is absolutely exciting. VSHN has always been an unconventional company in terms of how we are organized and how we operate – it's part of our DNA. VSHNeers have always been involved in the decisions of the company. With the move to organize our company according to the principles of Sociocracy 3.0 (S3), we have further strengthened the involvement of every VSHNeer in the decision-making process. Together with Markus Speth, we will form a Co-CEO team, which I feel is a good thing to do things as a team rather than alone. Since I have known Markus for a very long time and we have worked together at various previous companies, we know how to work together. We will share this task and do our best to move VSHN forward and keep the momentum we have gained."
Tobias Brunner
"I am very much looking forward to being the driving force behind VSHN as Co-CEO alongside Tobias, to be an important pillar in the further growth and to master future challenges. When I started as Chief Marketing Officer at VSHN in July 2018, I was no stranger to the VSHNeers as we already knew each other from various engagements and I knew the drive the people behind VSHN have. I am absolutely convinced of our strategic direction and especially of our team, the VSHNeers, who ultimately make the difference. We have a lot of ideas for the next chapters of VSHN, how we can take further growth paths and develop as an organization as a whole to focus even more on customers, partners and VSHNeers. Let's tackle it together."
Markus Speth
Darüber hinaus hat VSHN weitere Mitglieder in die Geschäftsleitung einberufen: Manuela Banz als Finanzverantwortliche und Michèle Leibenzeder als Verantwortliche für People Operations. Marco Fretz, seit Juli 2020 in der Geschäftsleitung, kümmert sich weiterhin um Organisationsentwicklung und Operations und Matthias Indermühle, seit Gründung in der Geschäftsleitung und verantwortlich für Kundenprojekte, komplettieren die GL der VSHN.
In addition, VSHN has appointed further Members to the Management: Manuela Banz as CFO and Michèle Leibenzeder, responsible for People Operations. Marco Fretz, who joined the Management in July 2020, continues to be responsible for organizational development and operations, and Matthias Indermühle, who has been a Member of the Management since the founding and who is responsible for customer projects, complete VSHNs Management.
Michèle Leibenzeder is a VSHNeer since the founding of VSHN and has single-handedly mastered the balance between the various areas of people, finance, events and purchasing as Office Manager until 2019. In 2019, VSHN had reached a size where it became necessary to split these areas to ensure the best possible coverage. For this reason, Michèle was appointed Head of PeopleOperations to be able to focus on the needs of our employees and to work towards achieving the North Star Goal "VSHNeers are the happiest employees".
"I have never worked for a company as long as I have for VSHN. It's probably because the company values match my values. VSHN gives us freedom and trust, values personal initiative and that you are constantly developing. At VSHN, no one is still doing the same job he or she was hired for after five years. That is super exciting and fulfilling for me. I am convinced that the success or failure of a business idea (and the business strategy derived from it by management) depends on one single factor: the people who implement it. VSHN draws the consequence from this realization that a seat for PeopleOperations is needed in the Management. This positions VSHN in the "war for talents" and further emphasizes the importance of people."
Michèle Leibenzeder
Manuela Banz joined VSHN in 2019 and has taken over as Head of Accounting.
"I have been a VSHNeer for just over a year and thus am a part of this enterprise. I am all the more pleased that I have already been appointed to the Management team. I am honored to strengthen the Management and to be able to contribute my expertise in finance now to the Management team. I am convinced that this reorganization of the Management will enable us to master future challenges and continue to grow as a company."
Manuela Banz
VSHN lays the foundation for further successful and healthy growth and has big plans for the future. As an open and transparent company, VSHN is committed to the open source idea, supports CH-Open, the Linux Foundation and the Cloud Native Computing Foundation, among others, and publicly communicates Values, Beliefs and Goals in its handbook: https://handbook.vshn.ch/
Patrick Mathers and Aarno Aukia founded VSHN in 2014 because they saw a big gap between software developers and traditional hosting companies. As a Lean Startup, VSHN has focused on IT platform operations through automation, agility, and a continuous improvement process so that software developers can focus on their business and IT operations are relieved. Completely location-independent and without its own hardware, VSHN today operates applications according to the DevOps principle on any infrastructure or cloud in various countries worldwide.