taNET is an independent engineering office for computer science based in Goldau SZ. Our strengths lie in the area of IT security with our own as well as virtual, cross-company networks. We place the highest demands on our solutions in terms of both quality and technology and always use the latest technologies. The individual needs of our customers are always at the center of our activities.
In our development department, apps such as our ADprofiler are mainly developed to support system administrators and the standardization of various processes for the maintenance of IT systems.
Valentin Tanner | Executive Director

Parkstrasse 37
6410 Goldau
Schweiz

Tel +41 41 857 07 07
info@taNET.ch
http://www.taNET.ch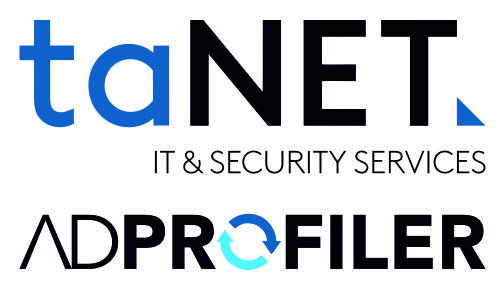 Internships and dissertations show detailhide detail
We offer positions for dissertations
We offer apprenticeships

Products
ADprofiler Product & Cloud Service show product detailhide product detail
Price:

user licensing (EDU/Gov conditions available)
specified offer on demand
Example (level June 2019):
- ADprofiler basic license includig 500 Users: CHF 5'433.00 (excl. VAT)
- AddOn Exchange including 500 Users: CHF 3'450.00 (excl. VAT)
Subscription as option available
Version:

3.3.x
Description:

ADprofiler is a universal administration tool with which the responsible for Windows network systems can perform recurring processes in the Active Directory, the file system and on the Exchange server in a standardized and automated manner.
Despite the standardized process, with the programming language C# can ADprofiler be individually and arbitrarily aligned and configured to meet the diverse needs of the customer.

ADprofiler manages the Microsoft user directory (Active Directory), the Exchange directory with mail signatures, as well as the file system (home and profile paths) in networks simply and quickly with the user data source you have available. With the help of individual modules, further user-relevant information such as photos, telephone systems, software distribution etc. can be managed with ADprofiler. User accounts no longer need to be individually configured or mutated. For example, ADprofiler accesses a data source from a current address administration or person database and creates new users or mutates existing users according to the individually defined criteria. All attributes to be synchronized can be dynamically created and managed according to your requirements.
Hosting:

in Switzerland
Categories:

Data Quality, Network Security, Task Management, General Administrative , Business Process Management / Workflow
Thursday 31.10.2019

Einfaches Active Directory

Geschulte Systemadministratoren sind teuer. Deswegen sollte ihre kostbare Zeit sinnvoll verwendet werden. Das ist das Ziel des ADprofiler von taNET. Christian Walter General Administrative