You get high-quality product development for technical and embedded software with a focus on functional safety, data security and digital signal processing. For you, this means that your projects for controls (also hardware), graphical user interfaces, technical apps and IoT systems are completely handled over from specification to series launch.
Herr Andreas Stucki | CEO

Stationsstr. 69a
8623 Wetzikon ZH
Switzerland

Tel +41 (0)44 555 39 60
a.stucki@solcept.ch
https://www.solcept.ch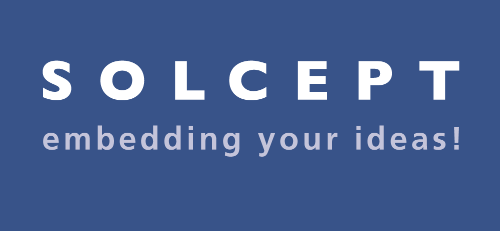 Products
Product Development Services & Consulting show product detailhide product detail
Description:

With us you get tailored product development, professionally executed according to our processes, which also cover functional safety and cyber security.

Leave the tasks from specification & planning, implementation and testing to industrialization and production to us as your product development service provider. Since we take over the entire project management, your employees are freed up for other projects.

We can also take care of product maintenance for you. Since all intellectual property belongs to you at the end of the project, you can also take them over yourself, no lock-in...
Technology:

C, C++, RTOS, Linux, Xamarin
Categories:

Embedded systems/software, General Automation Technology, General Internet of Things (IoT), Security IoT, Healthcare
Consulting Services & Consulting show product detailhide product detail
Description:

You benefit from our experience outside of development projects in consulting mandates tailored for you and with you. There are no prefabricated solutions which we impose on your problem.

You get support in innovation, cost optimization, process development, also for functional safety and data security, as well as for strategy, business models and project management.
Categories:

General Consulting, Security Consulting, Process Management