Partner for ERP software and individual applications
Miss Tobias Schnelli | Marketing und Vertrieb

Bronschhoferstrasse 31
9500 Wil SG
SCHWEIZ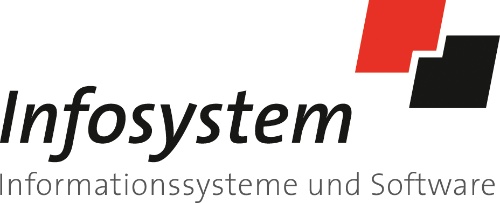 Products
Infosystem Services & Consulting show product detailhide product detail
Price:

on demand
Description:

We do not only provide software, we offer solutions.
According to this principle works the entire Infosystem team.
The Infosystem AG is a specialist in business software. Our performis® applications ERP, CRM, BI and PPS are in use around the world for various customers and are continually evolving. All performis® modules are developed in-house and our focus is always the perfect combination of standard and individual customized software.

Do you also know processes in your company which do not fit easily into a standard package? At this point our work begins. We work together with your team, consider and analyze the processes, be course it does not matter in which branch you are operating. In an agile environment we obtain the cost and customized solution for your business.

Our service does not end with the completion of a project: As our client, you can always rely on our fast and flexible operating support and the distribution of new standard releases which is a matter of course for us. Our service is supplemented by the continuous exchange of information and ideas - that leads to the development and continuous improvement of your solution.
Let yourself be inspired by performis®.

Technology:

Performis® ERP/ CRM/ BI/ Mobile solutions
Categories:

General Enterprise Ressource Planning (ERP)
Performis ERP Product & Cloud Service show product detailhide product detail
Description:

Das von uns selbst entwickelte ERP-System performis® bildet in vielen Projekten die Basis für eine umfassende Kundenlösung. Mit diesem Vorgehen erhält der Kunde die massgeschneiderte Lösung mit so viel Standardsoftware wie möglich und so viel individuell entwickelter Software wie nötig. Unsere Software erhalten Sie auch als Cloudlösung. Die Kundenprojekte profitieren auf diese Weise schnell von einer zuverlässigen Lösung zu einem guten Preis.
performis® - ERP Product & Cloud Service show product detailhide product detail
Price:

on demand
Description:

The Performis ERP follows the approach of so much standard software as possible, as much individual software as needed.

Following modules are available in performis®.

performis®-FI - General Ledger Accounting

performis®-RW - Financials

performis®-AL - Asset Accounting

performis®-PA - Personnel Administration

performis®-LE - Rewarding Accounting

performis®-VK - Sales

performis®-EK - Purchasing

performis®-MA - Materials Management

performis®-FA - Invoicing

performis®-GP - Business Partner Management

performis®-BA - Basic System

Technology:

.net
Categories:

General Enterprise Ressource Planning (ERP)
Link: