Our EDI Service Center is a modern solution for the exchange of business data using EDI (electronic data interchange). The platform is suitable for all industries and is already used by over 500 companies.
STEPcom Services GmbH

Habich-Dietschy-Str. 9A
4310 Rheinfelden
Schweiz

Tel 061 835 30 00
info@stepcom.ch
https://www.stepcom.ch



Products
EDI Service Center Services & Consulting show product detailhide product detail
Description:

Our EDI Service Center is the right solution for your needs. You do not have to make your own investments, nor worry about complex technical infrastructure. We at Stepcom take care of everything.

You receive orders from your customers directly into your ERP system and can automatically transmit electronic delivery notes or invoices to your customers. All communication and conversion processes can be monitored with the included STEPView service.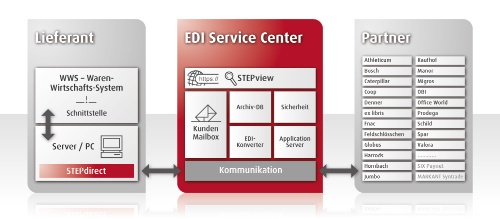 MIOS Software enabled Business show product detailhide product detail
Description:

MIOS (Manual Input and Output Solution) allows together with our EDI Service Center to easily operate EDI with your customers.

The tool can be used if (not yet) no interface between the EDI Service Center and your own inventory management system will be implemented.
Categories:

Business Process Management / Workflow, Online Transaction Systems