CARIFY enables a new way of driving and operates the largest platform for car subscriptions in Switzerland.

Modern customer values such as convenience, simplicity, immediacy and flexibility are at odds with today's car offers. Today's customers are forced to use their car as an "all-purpose vehicle", regardless of whether they commute to work alone or take the whole family to the mountains. CARIFY gives its customers the flexibility to choose the right car for the right need at the right time and have it delivered right to their doorstep. A monthly payment includes everything that is needed. From the car to the insurance, the service, the taxes or the tyre change. CARIFY is the new way to drive a car.

Herr Sergio Studer | Gründer

Buckhauserstrasse 1
8048 Zürich
Schweiz

sergio.studer@carify.com
http://www.carify.com



Products
CARIFY Auto Abo Platform Software enabled Business show product detailhide product detail
Price:

Individuell
Description:

CARIFY operates the largest platform for car subscriptions in Switzerland at www.carify.me. Various parties from the automotive industry can offer their services on the platform with a monthly subscription:

- Car dealers and garages
- Insurance
- Plus Service Partner (micro-mobility etc.)

Customers can put together their own individual monthly mobility package and benefit from maximum flexibility.
Categories:

Platform-as-a-Service (PaaS), Software-as-a-Service (SaaS), Business Service Management
Link: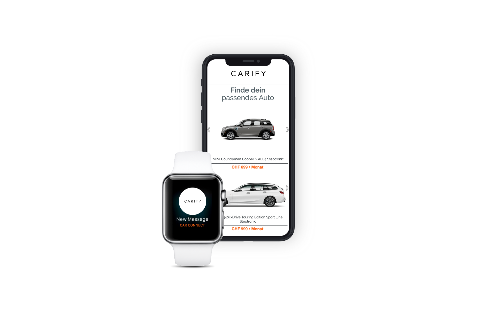 Thursday 19.11.2020

Ein Auto für drei Monate

Das Start-up Carify bietet über 800 verschiedene Fahrzeuge bei Mietdauern ab einem Monat. Mit an Bord sind eine neue Versicherungslösung und jede Menge Garagisten. Christian Walter Platform-as-a-Service (PaaS)