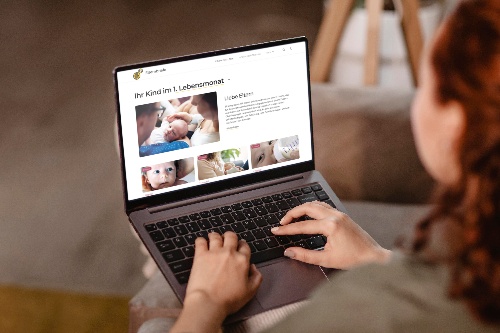 The Bern-based full-service digital agency took on the exciting challenge of implementing a digital version of the traditional and widely distributed letters to parents for Pro Juventute. The letters to parents serve as a guide for new parents and are sent out at regular intervals from the birth of the first child by Switzerland's largest foundation for children and young people. In addition to the popular physical brochures, parents now also benefit digitally from the valuable information, tips and tricks. The application is currently being tested by nine municipalities and will then gradually be made available to the general public.
Everything for new parents - now also in digital form
The "Parents' Letters" web application is designed to make the previously analog content of the Parents' Letters guide available online. Based on the child's date of birth, parents are automatically shown content that matches the age of their child. This ensures that parents are able to preselect content that is relevant to them, enabling them to access important information quickly. In addition, they have the option of using the search function to search for various keywords or to filter according to topics. Furthermore, parents can access the free Pro Juventute parent advisory service, which is available around the clock, with just one click. The "Elternbrief digital" is currently being tested in German; in a further step, further language adaptations are planned and the product will be continuously supplemented with new functionalities. "As a young agency with many new parents, we know Pro Juventute's parent letters well. This is precisely why the project was important to us," says Martina Egli, co-CEO of Zeilenwerk.
Zeilenwerk relies on open source software
next.JS was used for the front end of the new application. Zeilenwerk worked with Strapi as the content management system (CMS) for Pro Juventute. Strapi is an established open source headless CMS that is based 100 percent on JavaScript and enables an intuitive and content-centric application for users at Pro Juventute. To make it easier for parents to log in to the platform, a "passwordless login" using Magic Link is used. With this authentication option, parents log in without a password. Zeilenwerk is convinced that the passwordless login is currently the most future-proof technology in the area of login. The application is connected via an API interface to the CRM Salesforce, which was already in use at Pro Juventute. For hosting the application, Zeilenwerk provided support in setting up Microsoft Azure and deployed the application on Pro Juventute's environment.
The digitization of social institutions
With the digitization of the Ratgeber Elternbriefe, Zeilenwerk was able to make a significant contribution to the digitization of Switzerland's social institutions. Working for and with Swiss NGOs is a matter close to Zeilenwerk's heart. Martina Egli says: "Swiss NGOs make a major contribution to social well-being in Switzerland. As Zeilenwerk, it is always a great pleasure and honor for us to support social institutions in the field of digitalization." Pro Juventute also appreciated the collaboration with the Bern-based digital agency: "Working with Zeilenwerk was exactly what we needed. You could always feel the drive and the heart and soul of the employees at the agency. We appreciate the good communication with everyone involved and the expert advice when it came to technical decisions. Together we have developed a product we are proud of."