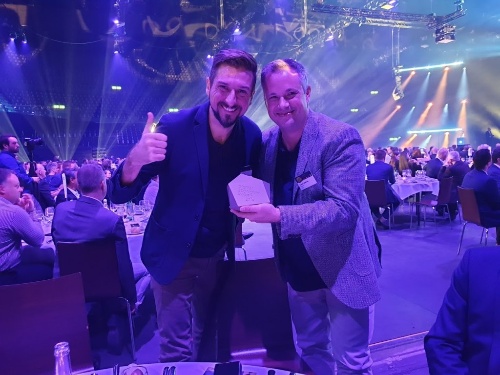 VSHN gewinnt Gold in der Kategorie Highest Digital Quality beim Digital Economy Award
Wer hätte das gedacht? VSHN – The DevOps Company gewinnt Gold am Digital Economy Award in der Kategorie Highest Digital Quality. Wir könnten nicht glücklicher sein und bedanken uns bei allen #VSHNeers, die diesen Erfolg möglich gemacht haben.
Der Moment der Gewissheit wurde von unserem Freund David Kilchenmann von Puzzle per Video festgehalten, Danke dir vielmal, Dave! 😊
Die Digital Economy Award Night
An der Digital Economy Award Night haben 600 Gäste aus der Digitalbranche, Forschung, Wirtschaft und Politik die digitalen Glanzleistungen des Jahres gefeiert. Die Verleihung fand im Hallenstadion in Zürich im Beisein von Bundesrat Guy Parmelin statt.
Gewinner in der Kategorie Highest Digital Quality 2019: VSHN – The DevOps Company
Jury-Präsident Marcus Dauck:
«Sowohl für KMUs, als auch grössere Unternehmungen, setzt VSHN in dem klar definierten Dienstleistungssegment mit höchster Qualität und starkem globalen Wachstum aus der Schweiz heraus einen neuen Massstab. Als junge Firma, in einem sich technologisch schnell verändernden Umfeld, auf nachhaltige, aber flexible Services zu setzen, ist nicht selbstverständlich und erfordert Beharrlichkeit. Speed, Fokussierung und Qualität sind auf höchstem Niveau und haben die Jury begeistert.»
Die gesamte Sieger-Laudatio im Wortlaut findet ihr in der offiziellen Pressemitteilung der Digital Economy Award AG.
Die Zertifikate-Träger
Im Rahmen der Digital Economy Award Night am 28. November wurden wiederum Firmen und Organisationen in fünf Spezial-Disziplinen Zertifikate verliehen:
• Security: First Security Technology
• Industrie 4.0: Side Effects
• Lean, Agile & Scrum: SBB Informatik, VSHN, Aduno Gruppe / Viseca Cards Services SA, Five Up Community
• Open Source: Zammad
• User Experience: ti&m, Aduno Gruppe / Viseca Cards Services SA, interactive friends
Über den Digital Economy Award
Der Digital Economy Award wird veranstaltet vom ICT-Fachverband swissICT und dem Fachverlag Netzmedien AG und entstand durch einen Zusammenschluss des Swiss ICT Award und des Swiss Digital Transformation Award. Die nächste Verleihung findet am 25. November 2020 im Hallenstadion in Zürich statt.
Alle #VSHNeers feiern gemeinsam den Award
Am Tag nach dem Digital Economy Award durfte das gesamte Team den "Pokal" an unserer Weihnachtsfeier in Augenschein nehmen.
Was kommt als nächstes?
Auch nach dem Gewinn des Digital Economy Awards wird es sicher nicht langweilig – schau dir unser "Next Big Thing" an, Project Syn.
Pressemeldungen
https://www.digitaleconomyaward.ch/de/sieger2019/vshn
https://www.digitaleconomyaward.ch/de/finalisten-2019-mm
https://www.handelszeitung.ch/news/digital-economy-award-preise-fur-glanzleistungen
https://www.cash.ch/news/politik/digital-economy-awards-digitale-auszeichnung-fuer-marc-walder-1440430
https://www.netzwoche.ch/news/2019-11-29/sonect-ist-das-next-global-hot-thing-der-schweizer-it
https://www.inside-it.ch/articles/56270
https://www.computerworld.ch/business/veranstaltung/fintech-sonect-gewinnt-digital-economy-award-2400656.html
https://www.it-markt.ch/news/2019-11-29/sonect-ist-das-next-global-hot-thing-der-schweizer-it
https://www.persoenlich.com/digital/start-up-sonect-schwingt-oben-aus
https://www.horizont.net/schweiz/nachrichten/bericht-und-video-zum-digital-economy-award-sonect-fintech-start-up-raeumt-ab-179353
https://www.moneytoday.ch/news/um-den-digital-economy-award-kaempfen-die-besten/
https://www.swissict.ch/event/digital-economy-award-night/
https://www.startupticker.ch/en/awards/swiss-ict-award
https://www.swico.ch/de/kalender-events/detail/digital-economy-award-2019