Comitas AG develops client-centered web applications with great commitment and know-how, based on MS .Net technology. With our full-service, we cover the entire software lifecycle. In-house development of cloud and intranet solutions complements our portfolio.
Herr André Brühlmann | CEO

Wiesenstrasse 5
8952 Schlieren
Schweiz

Tel 044 745 17 77
info@comitas.ch
http://www.comitas.ch


Products
Softwareentwicklung Services & Consulting show product detailhide product detail
Price:

auf Anfrage
Version:

-
Description:

Intrapact - The future of portal solutions

Choose the intranet technology Intrapact and you will have the right tool to face the challenge of our information society. No matter if you have 5 or 1'000 working environments, Intrapact is highly customisable and flexible with its scalable architecture and meets the needs of your individual IT environment.

Intrapact enables you to optimise internal and external information flow. All information is centrally stored on a server and as a result, the complexity of data administration is dramatically reduced. The portal solution is an intelligent information and communication platform and it functions as a reliable "single point of information", since all employees can be informed at the same time.

An intranet portal immediately ready to use - installed within a few minutes

Intrapact is a highly flexible and scalable out-of-the-box intranet portal, which can be installed within a few minutes. Due to a wide range of applications, the software can be used immediately. You can benefit from the straightforward usage and start immediately to optimise your information policy. The software offers you the ability to build your own applications without any technical knowledge, so you can optimize the processes within your organisation. In short, your solution always remains flexible and customisable in order to perfectly match the changing needs of your organisation.

Comitas Inc. aims to integrate scalability, interoperability, and a user friendliness into the architecture of the software. Benefit from the Intrapact applications which, until now, would have been cost prohibitive and reserved for large companies with broad financial backup.

Unlimited ability to extend Intrapact
Technology:

Microsoft
Categories:

General Administrative , Business Intelligence, Collaboration Portals, Online Collaboration, Online Shops
Intrapact Product & Cloud Service show product detailhide product detail
Price:

ab 694 CHF
Version:

10.0
Description:

Mit Intrapact 10.0 "The Information Office" erhalten die Comitas-Kunden eine Portal-Software, eine zentrale, einfach und intuitiv bedienbare Informationsplattform – als Intranet oder Extranet für verschiedene Endgeräte. Die Portallösung kann individuell aus verschiedenen Applikationen zusammengestellt werden. Beispiele hierfür wären ein Newsletter, ein internes Wikipedia, ein Document-Center, eine Ressourcenverwaltung oder ein Gruppenkalender. Mit Intrapact 10.0 werden die Daten in einer einheitlichen Form eingepflegt und sind somit immer aktuell für jeden Benutzer verfügbar, unabhängig von Zeit und Ort.
Technology:

Basierend auf MS-Technologie. Einfache Installation und Adaption an Ihre Bedürfnisse zeichnen Intrapact ganz speziell aus.
Categories:

Sales Management, General Administrative , Business Intelligence, Collaboration Portals, Online Shops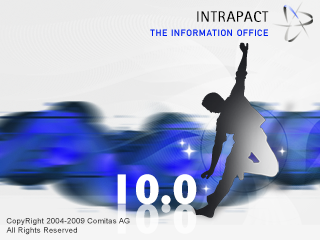 Comivent Product & Cloud Service show product detailhide product detail
Price:

Monats-/ Jahrespreis

Light-Abo: CHF 50.- / CHF 550.-
Standard-Abo: CHF 350.- / CHF 3'850.-
All-in-One: CHF 700.- / CHF 7'000.-
Description:

Comivent ist ein webbasiertes Tool, über welches Ihre Anlässe und Kurse organisiert, die Ressourcen (wie Räume, Beamer etc.) gebucht, Mitarbeiter informiert/eingeladen werden können und alle Informationen feinsäuberlich im Kalender ersichtlich sind.
Comivent bietet all diese und noch mehr Features und punktet mit topmoderner Technologie und intuitivem Design!

Wir stellen ein kostenloses, 30-tägiges Testabo zur Verfügung: www.comivent.ch/Testversion
Technology:

Microsoft ASP.NET, Microsoft Windowsserver, MySQL Datenbank
Categories:

Task Management, Online Collaboration, Health Care
Link: