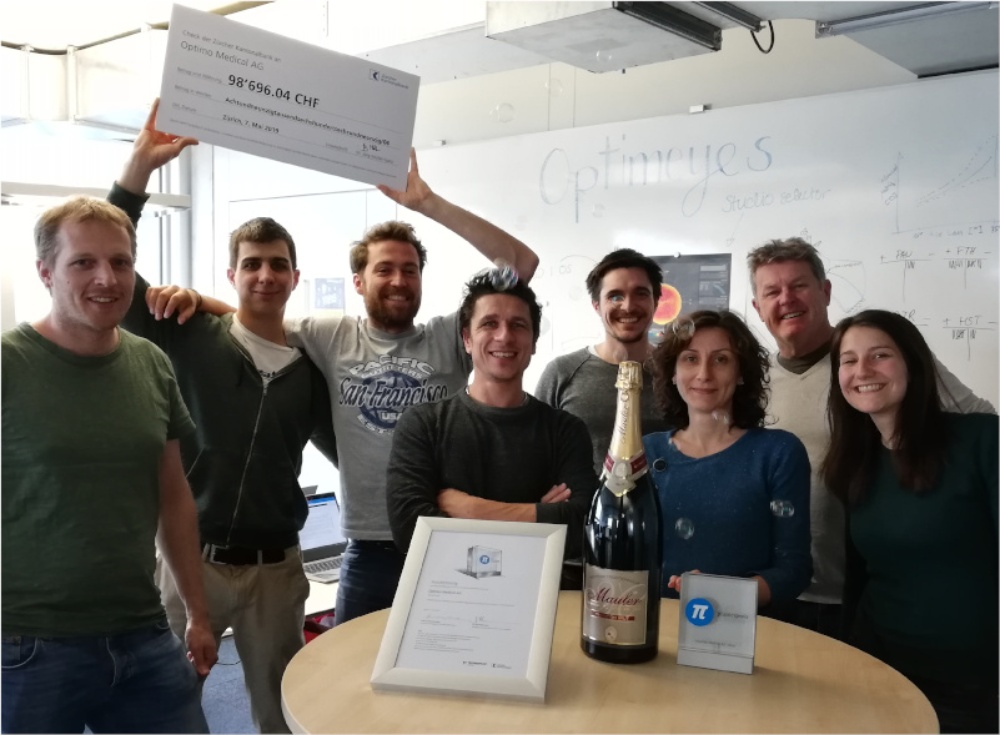 Optimo Medical's CEO, Dr Harald Studer, was delighted last week for its innovative and ground-breaking eye surgery planning software Optimeyes to be recognized as 2019 winners of the zkb pioneer prize and for the company to receive a cheque for CHF 98,696.04.
The Biel-based company was chosen over 50 other startups in many industries from across Switzerland. Since 2001 the zkb pioneer prize has been awarded annually to Swiss young entrepreneurs and is sponsored by the Foundation Swiss Technopark and the Zurich Cantonal Bank.
The product Optimeyes enables surgeons to plan cataract surgeries with simultaneous astigmatism correction patient-specifically, by creating a virtual copy of the individual cornea of the patient. On this virtually simulated copy, the computer can then "dry run" the surgery and calculate the optimal surgery values for the specific patient. This is important, as already micrometers decide between perfect sight or remaining vision impairment in eye surgeries. In addition, the planning for these surgeries currently relies on statistical models only which assume a "standard eye" and thus do not account for the personal characteristics of the patient's cornea. Optimeyes is CE certified since March 2018 and commercially available across Europe.
The jury of the zkb prize was impressed by Optimo Medical and its product Optimeyes because they "took an exceptional idea and developed it into a technical project which is characterized by particular innovative power, market proximity, and social relevance". The award and cash prize - which equals π2 times 10,000 - is among the most prestigious innovation awards for young entrepreneurs in Switzerland. Harald Studer commented that the recognition and prize will help the company invest in Marketing & Sales in order to increase the market traction for Optimeyes.
More information on the zkb Pionierpreis and the introductory video of our company (both in DE).