Optimo Medical AG is a Swiss-based medical device company with a passion for eye care. We develop software applications which allow eye care professionals (e.g. surgeons, ophthalmologists, eye doctors) to plan cataract and other eye surgeries patient-specifically and, as a consequence, enable more precise prediction of the results. The combination of many years of experience in corneal biomechanics and simulation technology makes Optimo Medical AG a leader in biomechanical simulations of corneal and ocular tissue; both for the development and distribution of software applications but also the provision of virtual clinical studies which we offer as a service.
Dr. Harald Studer | Optimo Medical AG

Robert-Walser-Platz 7
2503 Biel/Bienne
Schweiz

harald.studer@optimo-medical.com
https://www.optimo-medical.com



Products
Optimeyes Product & Cloud Service show product detailhide product detail
Version:

2.1
Description:

Optimeyes is a software tool which enables eye surgeons to simulate the individual cornea of their patient. Its current version can be used to for patient-specific planning of refractive cataract surgery (arcuate keratotomy). It allows to virtually dry-run the surgery in order to find the optimal parameters for operation and ensure best possible results. In this way, our software closes the gap between available high-tech diagnostic and high-tech surgical devices (e.g. eye lasers) and outperforms the currently used statistical nomograms. The surgeon can simply import the patient's eye measurements into our software and then decide to either simulate pre-defined parameters (prediction) or let the computer find the most optimal parameters (optimization) for the placement of the cuts during surgery.
Technology:

Simulation of biomechanical properties
Hosting:

in Switzerland
Categories:

Healthcare, Software-as-a-Service (SaaS)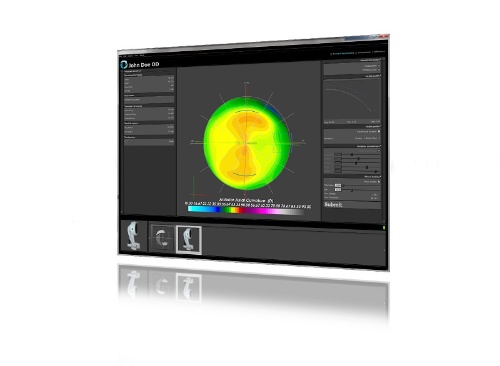 Optimeyes Virtual Clinical Studies Services & Consulting show product detailhide product detail
Description:

The Optimeyes simulation framework can do much more than the CE marked product. Although not directly applicable to patients, the software can be used to run parametric simulation studies and sensitivity analyses. Thanks to our large case database, in combination with the many different simulation options, companies can save time and money by evaluating the efficiency and sensitivity of new surgical methods or implants with virtual clinical studies. Simulation results from virtual clinical studies may also be used for a CE or FDA submission.
Technology:

Virtual Clinical Studies (in silico)
Hosting:

in Switzerland
Categories:

General Consulting, Healthcare