GenomSys is a Swiss health technology software company that develops secure, clinical-grade solutions bringing personalized medicine to everyday life.

The company developed and led the ISO international standardization for genomic data representation (MPEG-G) which delivers substantial benefits in terms of efficient compression, interoperability, native protection, and selective access - taking genomics to the digital era.

Now GenomSys is taking the next step, enabling laboratories and citizens to take advantage of the new standard: MPEG-G native analytical pipelines for more efficient storage and focused analyses via selective access, and the ability for people to store and analyze their own genomic data in their smartphones, bringing genomics into the mobile world.
Mr. Lucas Laner | Marketing

Via Alberto Giacometti 1
6900 Lugano
Switzerland

lucas.laner@genomsys.com
http://www.genomsys.com


Products
GenomSys MPEG-G Codec Suite Product & Cloud Service show product detailhide product detail
Description:

GenomSys MPEG-G Codec Suite is a collection of software tools to process genomic data compliant with ISO/IEC-23092 genomic data standard (MPEG-G). It is CE marked as an in-Vitro Diagnostic Medical Device according to 98/79/CE directive and hence approved for clinical-grade diagnostic purposes.

The tools enable organizations to implement the standard and leverage its benefits by encoding and decoding genomic data; providing source code examples, a comprehensive user manual, and additional software to transcode from/to legacy formats (to preserve past investments) and to integrate functionalities into existing applications and pipelines.

The key benefits of the unique MPEG-G standard are a single unified format, non-proprietary ISO-defined international standard, built-in security elements, significant size benefits, and dramatically faster data access time.
Technology:

ISO/IEC-23092 genomic data standard (MPEG-G)
Categories:

Data Management, General Healthcare
Link: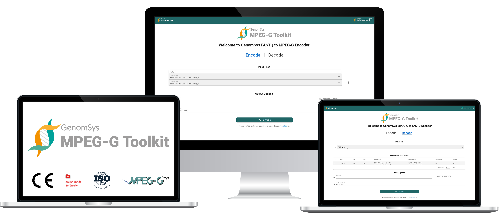 GS STORE Product & Cloud Service show product detailhide product detail
Description:

GVA is a platform natively operating on MPEG-G genomic data format that enables accurate variants identification, annotation, and interpretation (SNVs, indels, CNVs).

Based on state-of-the-art pipelines and leveraging MPEG-G-specific features, GVA supports professionals in the diagnostic process and selecting treatment options.

Our Variant Analyzer has been developed to address the customer's requirements regarding accuracy, privacy, and usability and can run both in cloud or server environments. The selective access enables to focus on required genetic targets without the need to access and analyzing the whole patient's genomic data. The enhanced compression rate and native encryption provide an advantage for sequencing and genomic research centers.
Technology:

MPEG-G Based ISO Compliant genomic data format
Categories:

Data Management, General Healthcare,
Link: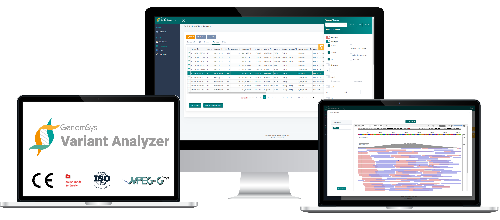 Monday 17.08.2020

Genom-Daten im MPEG-Format

Dank sinkender DNA-Sequenzierungskosten entstehen nicht nur neue Forschungsmöglichkeiten, sondern auch neue Datenberge. Der Forschung zur Hand geht das Start-up Genomsys. Christian Walter General Healthcare