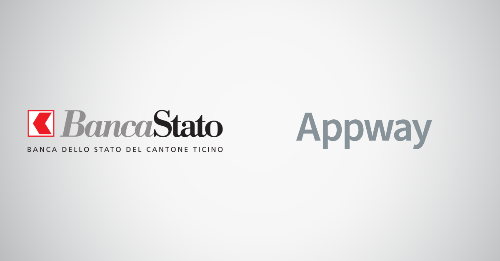 Banca dello Stato del Cantone Ticino (BancaStato) is investing in Appway's client lifecycle management (CLM) solution suite to better support its front office with all client interactions, as well as reduce customer response times and improve operations across its front, middle, and back office. Concurrently, BancaStato is expanding its use of Appway for its fully-owned subsidiary specialized in world-class private banking services, known as Axion SWISS Bank, thereby harmonizing its IT architecture and customer experience group-wide.
Ticino's cantonal bank started working with Appway in 2014 to streamline customer onboarding and client update processes for its retail customers. The latest project is designed to leverage Appway's process management and orchestration capabilities more broadly across the group: For a wide range of common customer requests that the bank's front office handles daily – from opening a new savings account to editing the client's e-banking access to changing the limit for a debit card – Appway will serve as the primary user interface for 350 users at BancaStato and Axion to access and edit customer data.
"We want to take the complexity out of the front-office function so that our advisors can fully focus on relationship management and reduce customer response times," says Matteo Saladino, Head of Project Management, IT and Logistic Services and Director at BancaStato. "With Appway, they have an intuitive interface to work with while being connected to all relevant systems in our middle and back office. This way, we work with consistent data across our bank and eliminate redundant, manual processing." As part of the ongoing project, all relevant data points from the bank's core banking system, Avaloq Banking Suite, are being seamlessly interfaced with Appway.
In addition, BancaStato is introducing Appway's Business Data Comparison (BDC) Business Component to reduce the workload for all bank employees involved in KYC approval processes. It provides overviews of changes between the current state of a data structure and previous versions in time, thereby boosting efficiency of business data reviews and supporting transparent decision-making.
"We are delighted to deepen our collaboration with BancaStato and assist them with their ongoing digitalization," says Paul Schaffner, Head of Sales EMEA for Appway. "Together with our growing community of banking clients here in Switzerland, as well as internationally, our solutions covering the whole customer lifecycle will continue to evolve in line with the increasing service expectations of their customers."
Learn more about BancaStato and Appway
About BancaStato Founded in 1915, BancaStato is a universal bank, providing retail and corporate banking products mainly to the canton residents. BancaStato is an autonomous public-law institution of the Canton Ticino and benefits from a state guarantee. Its public service mandate entails providing financial services for the public and businesses, supporting the Canton in the performance of its tasks in the economic, social and environmental arenas, and ensuring that its actions are environmentally and socially responsible. From a bank historically linked to real estate mortgages, the range of services it delivers has gradually increased over the years. Thanks to over 400 employees working in 4 branches and 16 agencies spread all over the Canton, BancaStato can provide all the services and products of a global bank: from granting loans to private individuals and companies, to payment transactions, to retirement funds and wealth management services. The bank also has a wide range of electronic banking services and a capillary network of ATMs all over the Canton. In 2010 BancaStato acquired a 100% stake of UniCredit (Suisse) Bank SA, now Axion SWISS Bank SA, with the intent of securing specific know-how and developing an international Private Banking segment. In 2016, the expertise of the Group's Private Banking center was further strengthened with the acquisition of part of the Private Banking arm of Société Générale Private Banking (Lugano-Switzerland) SA, thus doubling in size. More Information: www.bancastato.ch