Appway provides the leading solution for client onboarding in the finance industry. Today, Appway's specialized client onboarding solutions are serving more than 100 of the world's most recognized financial institutions in Europe, Asia and the Americas.
Lessinsgtrasse 5
8002 Zürich
Schweiz

Tel 043 204 06 08
info@appway.com
http://www.appway.com


Internships and dissertations show detailhide detail
We offer internships
We offer positions for dissertations

Contact:
jobs@appway.com

Products
Appway Client Onboarding Product & Cloud Service show product detailhide product detail
Price:

Auf Anfrage
Version:

N/A
Description:

Appway Client Onboarding is the leading software solution for retail, corporate and private banks, and wealth managers. By automating manual tasks, and eliminating time-consuming coding, Appway Client Onboarding delivers an excellent multichannel experience that spans the entire consumer lifecycle.
Technology:

N/A
Categories:

Project Management, Risk Management, Business Process Management / Workflow, Web, Banking Systems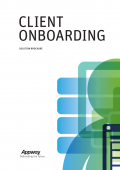 Appway Development Platform Product & Cloud Service show product detailhide product detail
Price:

On request
Version:

5.2.2.3 (10.2012)
Description:

The entirely web-based Appway Platform can be used to integrate existing systems while orchestrating complex processes and events. It is also a tool to compose, automatically deploy, and centrally manage web applications.
Technology:

100% browser-based Integrated Composition Environment (ICE), Java, Appway SDK for Eclipse
Categories:

Business Process Management / Workflow, Web, Java, Web Publishing